Describing the effects and benefits of Myristin in the treatment of Arthritis: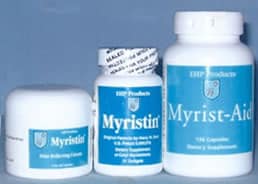 Use: Cetyl myristoleate (CMO) is the common name for cis-9-cetyl myristoleate. CMO was discovered in 1972 by Harry W. Diehl, Ph.D., a researcher at the National Institutes of Health. At the time, Dr. Diehl was responsible for testing anti-inflammatory drugs on lab animals. In order for him to test the drugs, he first had to artificially induce arthritis in the animals by injecting a heat-killed bacterium called Freund's adjuvant. Dr. Diehl discovered that Swiss ... View More
Men are embarrassed to ask how to use a penis pump. They no longer have to! They can watch this video in the comfort of their own home.